Dear Players,
Metin2.SG provides a ticket system
http://www.metin2.sg/support

We usually reply in less than 24 hours however most of the times we need several replies to close a ticket, due to the lack of informations provided by the players, probably because they are not used to this system.

So hereby some good tips to receive a faster support and have a better game experience.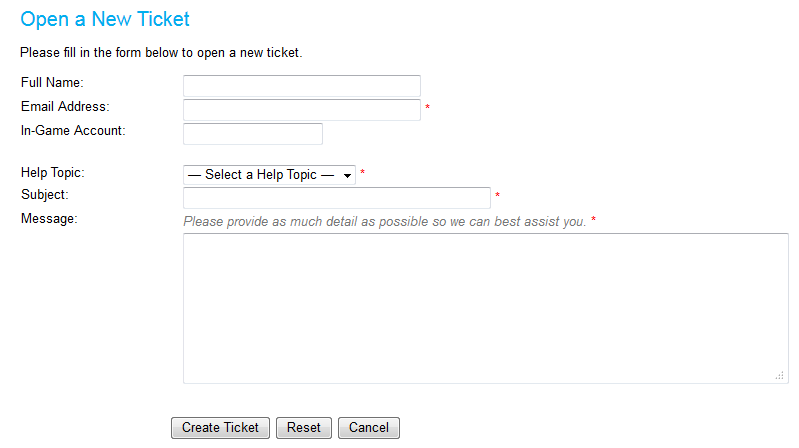 Full Name: You can leave this blank if you don't want to give us your real name, or just place your ingame name, just avoid to fill it with "Jonh Doe" or "I don't want to give my name", it happened already many times
Email Adress: This is very important. The email must be a real mail as our reply will go there. We suggest to use the email related to the account that experienced the problem to speed up the support.
In-Game Account: You can leave it blank but we suggest to write down the login ID of the account that experienced the problem.
Help-Topic: Self explanatory.
Subject: It's the title of the ticket. Just avoid to use the tipical "Pls GM help me", it is not usefull to us
Message: The most important part of the ticket. I will write below what you should write in every common situations
But first, these are tickets that we do NOT deal:
Transfer
The transfer is over. It doesn't matter the reason we do not transfer accounts anymore. Any missing items should have been reported months ago, if you notice now that something is missing, it's your own fault. Any sent ticket will receive just one reply and ignored upon further requests.
Email Change
To change your email address, you must send a mail at info@tec-interactive.com from the current address of the account, writing down the new one.
Trade Admin, Tec Point Rings
Both these services are ingame only. You must get in touch with a game master in game. Now several tips for each topic.
Billing
In case you do not receive your tec points upon the purchase, write down in the message the payment method, the purchased ammount and the date. With paypal, write down the email and possibly also a screen of the transiction, with PSC, write down the Code. With Super Rewards you must first ask to their support as it is an external service. Also remind to write down the login ID or the name of the Char in the ticket.
Forum
Upload the screenshots of eventual bugs on an external site and paste the link. Try to provide more informations, like when and how the bug occurs.
Game and Website bugs
Same as above, if you provide screens of the bug it really help us. Try to provide all the informations regarding the bug. Also write the ticket using the Data from the account that experience this bug.
Player Report and Other
These are the most common and used categories even if Other should be used for questions or other problems, while Player Report is for Scamming, Hacking, Insults, Harrassment and Kill Stealing.
Scamming
A player that rob items/golds/accounts or fool another player is called Scammer. The punishment is a permanent ban. If you are victim of a scam you must point out who is the scammer (saying "my friend" or "a guy i trusted" doesn't help us at all), what are the stolen items, how he scammed you and possibly a full set of screenshot of chats between you and him. We provide a good support for every trades or deals so in case you are scammed in our server is 100% your fault.
In some case we won't be able to restore your items, so when you share your account with other players, you must take into consideration the consequences.
Every false report may lead to a temporaly or permanent suspension. Item stolen due to sharing or a "hacking" is the same to us as you are responsable for your own accounts and their security.
Hacking or botting
A video is the best report but in case you weren't able to just write down the player's ingame name. We will investigate.
Any illegal activity done by the account is punished, it doesn't matter if it was your "brother, sister, neighboor leeching your Wi-Fi", you are responsable for your account.
Insults and Harrasment
The best way to report this is a set of screenshots with the insults or harrasment. Like above, using the sharing or hacking excuse won't save you from the ban.
Kill Stealing
We need at least two screenshots. One with the player alone and the other with the kser stealing the metin stone or monsters. It is NOT kill stealing if the other player is from a different nation. It is NOT kill stealing if a player starts to kill in the same Spot/room.


---
All the tickets must be in english, if you type in a different language we will try to help you, but this may delay the answers. Also do not send multiply tickets unless more than 24 hours are passed and do not send another ticket because you don't have the ticket number. You will never see it when you create a ticket, just check your email address for our reply.
---
---